I've been tagged by
Miss March
with the liebster award! It's been a coon's age since I did a tag, and her questions looked fun, so just for kicks and giggles here goes.
1. What is your personality type?
Um...I don't know? The weird one? I did take a personality quiz a while back, but I can't remember what the result was and I don't think I found it very accurate anyway. (They said I had some kind of architect-brain. I was like, I don't think sooooo.) I know for certain I'm an introvert, and I know I have an overactive imagination, and I know I'm terrible at problem-solving. I'm also very changeable. Basically this quote sums up my personality:
"There's such a lot of different Annes in me. I sometimes think that is why I'm such a troublesome person. If I was just the one Anne it would be ever so much more comfortable, but then it wouldn't be half so interesting."
~Anne Shirley
2. What is one of your newest favorite movies? (As in one that you recently found, not necessarily a newly made film.)
Oh yessss, we love talking about movies. Yes yes yes. Hmmmm...*tries desperately not to think about The Hatfields and McCoys*...uhhhhh....
The Hatfields and McCoys.
OKAY I CAN'T HELP IT. Friends, I cannot wholeheartedly recommend this show. I actually can't recommend it at all, unless you reeeeeally like this kind of thing and you (like me) have a sick fascination with movies in which the character spend most of their lives trying to kill each other. It's really sort of awful. But it's SO GOOD. There are so many fascinating characters, and moments, and feels....it's amazing. I love it. So there.
Oh sure, why not, just go ahead and tear my heart to pieces...
3. Have you ever been prejudiced against a certain movie b
efore watching it, but then after seeing it decided it wasn't so bad? What movie was it?
Haha. Hahahahahaha. I've done this SO MANY TIMES. The most notable instance that I remember would be National Treasure. I watched it with my cousins and for some reason swore that I would hate it. Then I started to like it...but of course at that point I couldn't say so! My pride!
4. If you could meet any author in person, who would it be?
Well, my favorite authors are Richard Peck and Lynn Austin, but if I met either of them in person it's very likely I would be tongue-tied and probably faint from sheer reverence. It might be more
fun
to meet
Melissa Tagg
, who is pretty much one of the coolest people I know of. I haven't read any of her books, but I've scoured her blog archives and she's one of my favorite writers. I sort of want to be like her.
5. How many siblings do you have, and where do you fall in the lineup? (Sorry if that's a rather nosey question. You may answer it or not as you so choose.)
I have two siblings -- I am the middle button of three sisters. We are all nuts.
That's one of them right there on the right. I don't know who the weirdo on the left could be.
6. If you could be related to any fictional character (from a movie or a book), who would it be and what relation would they be to you?
Well, doesn't this take the prize for the cleverest question! I think I'd like Chris O'Donnel Jack Kittredge from the American Girl Kit stories as my dad. Not that I don't like my own dad, I'm just saying I would mind if this guy was my dad. That's all I'm saying. And....I'm going to shut up now.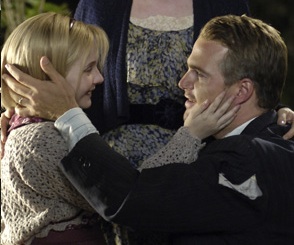 7. What is your favorite household chore, and what is your worst?
Hanging out laundry on the line! I do this for FUN, people. I will actually go downstairs to see if there is any laundry to hang out and do it without provocation because I love it so much. My least favorite is probably washing dishes. I seem to be very bad at it. How can one be bad at washing dishes, you ask? I don't know, but somehow I manage it.
8. Anne and Diana (from Anne of Green Gables) are a classic example of best friends. Do you have a best friend, and if so which one of you is more like Anne and which is more like Diana?
I do have a best friend, and I love to talk about her. ;-) Her name is
Naomi
and I'm guessing you probably know her, because we have basically the same fan base. We've been really really close friends for more than three years and she is one of the most ridiculously wonderful people I know. I'm actually going to MEET HER for the first time in less than a month. HOLD ME PLEASE.
Naomi and I have given each other countless nicknames (hers for me are better than mine for her, for the record) and Anne and Diana are actually some of them! I'm Anne and she's Diana, but in reality we're both more like Anne, because we both write and we both have wild imaginations.
9. What was one of the first chapter books you ever read? (You know, the one that made you feel so proud because you were reading a "big kids' book"!)
The one I remember distinctly is 'Magic Elizabeth'. It was an old faded paperback on my mama's shelf that I read when I was probably about seven or eight. I can't even remember who it's by now, or what exactly it was about (there was something about a doll and an old diary...) but I remember I LOVED it.
10. What is one of the yummiest, most delicious desserts you can think of at the present moment?
My sister Sadie's homemade peppermint ice cream. :-)
11. If you could be a character in one of your favorite movies, which movie would it be and which character would you choose?
Nobody in The Hatfields and McCoys, that's for darn sure. I'm not keen on the idea of people trying to kill me.
I don't know. I'd like to invent a character for myself and put it into one of my favorite movies. I'd like to be Ni's girl in Copperhead. But if I were to put myself in a role that already exists, I guess I'd like to be Anne Shirley. Anne has such a splendid outlook on life; everything is beautiful to her. She has dreams and goals and people who love her and is just generally happy about living.
~*~*~*~*~*~*~*~*~*~*~*~*~*~
Okaaaaaay.....you see the new header. Let's talk about how changeable Emma is and her psychic bent towards making new headers every two weeks, shall we? I promise, guys, this is the last one for awhile. I really wanted to do something with pictures that I'd taken myself, and I was just feeling...bored about the way The Blog looked. (I also needed a creative outlet, *hem*) Anyways, this is what we've got. It's the last one, I promise. :-)