Guys, I'm completely obsessed with North and South.
When I think about how this miniseries has splashed into my life and my feelings for it have changed, I have to laugh. Have I mentioned how I usually have to hate something before I can love it? Well, case in point. N&S is the poster example for that principle. At first, it was just an old miniseries from the 80's about the Civil War. It had very little chance of being as good as my beloved The Blue and the Gray, which in my mind nothing could top. I started watching it one snowy February night with my family, and at first I was unimpressed. Then I was disgusted with how many undressing-scenes kept popping up. The characters annoyed me, I got sick of their drama, and after a few episodes I decided to give it up.
However, the rest of my family didn't. ;-P (Turns out they were the smart ones.) I was down in the basement one night, typing away on some writing project or another, when my sister called me upstairs because "John Brown was there and he's Johnny Cash!" Of course, I had to see this, so I dashed up the stairs. And then I stayed...and I somehow got sucked back into the story...and I've never been the same since.
....Alright, that may be a slight overstatement. But I'm making a point. The point is, I LOVE NORTH AND SOUTH.
It's one of the best American miniseries ever made. (Heck, it even made me love Patrick Swayze.) It's the story that completely wrecked my life for about two months...
...and it's doing it again.
See, there has been a catastrophic occurrence in the Anderson household. Somehow North and South -- the whole miniseries, collector's edition (aaaaaahhhhhhhh)-- showed up underneath the Christmas tree. And it was someone's crazy idea to watch it again. And now...my heart cannot take all this.
*insert uncontrollable fangirly noises*
I can't believe how much I hated this miniseries before, and how much I desperately love it now. What happened?! I guess it just proves what a love/hate tendency I have. If something makes me feel enough to actually hate it, chances are those feelings are going to turn around sooner or later and speed full-force in the other direction.
Well, yes....it's got some issues. There's a heap of melodrama. And yes, it's a bit of a soap opera. But it's so much more than that. It's chock-full of history and action and romance and tension and DEPTH. Watching it for the second time around, basically all I can do is sit there and stare bug-eyed and go "WOW." (And squeal over how adorable Charles is, and laugh at Bent's ridiculous accent, and sigh with maternal pride when George meets Constance, and bawl with emotion over Orry and George's friendship. Oh, and shriek whenever Orry's face appears.)

I happen to be a Patrick Swayze fan, yes. Is there a problem?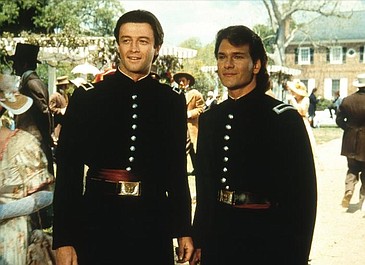 Really, through all the drama and romance and fluff, it's Orry and George's friendship that makes me see through the bad and appreciate all the good there is in this show. It's what I most love about N&S. I love these two SO much. I love their loyalty to each other, and while they plow through miles of differences between their families, their lifestyles, their beliefs. George represents the North, and Orry represents the South. They are separate, but equal. They are the kind of true friends who stick by each other, even when they don't agree, even when it's difficult -- even when they must risk their lives for each other. And THAT'S why Orry and George are the best ever.
Anyway. The purpose of this post (oh, so it has one?) is not to go deep; not yet. I could describe to you how Constance Flynn Hazard is my role model, or how Bent is so ridiculously evil it's hysterical, or how Charles Main is about as cool as you can get (especially in his brown suede coat)....but I wanted to ask y'all first, before I bombard you with all my violent emotions. (Yes, this is one of those rare instances where I actually ask my readers' opinion. You're surprised? Nonsense.)
Here's the deal: before I launch into a very long and very detailed and very passionate review of the North and South series, I thought I should ask you all first. Would you be interested in that? The reason I ask is because I know this series isn't very widely-watched anymore, and I *personally* am not over-the-moon interested in reading about shows I have never watched. SO. What do you say, people? Are you in for it?
Be warned, I may go ahead and write my long six-part review anyway. But I do want your opinion. :-)
In the meantime, I will be all right as long as Orry and Madeline get married.

*goes off whistling Dixie*